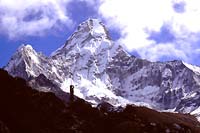 My goal is to travel light on the land, to honour the local people and customs, and to provide an environment for each member of the group that encourages and facilitates exploration and cultural interplay.

The quality of your experience is my main concern. Working towards this I invite your input, to let me know what you hope your trip to be. My trips evolve out of bringing together a group of people who have similar goals. To help your journey be as rewarding as possible we have made many amendments to the standard trekking service.


There are basically two modes of Himalayan trekking:
Independent (on your own) tea-house trekking
Organized group trekking

The independent trekker carries his own gear from lodge to lodge. These are common in the villages on the main trekking routes. With a little money, a guide book, a map and by setting his own schedule the trekker finds his own way. Very pleasant, but not speaking the language, the trekker tends to associate mainly with other westerners, out in the "dining room", while the riches of Nepali life and culture are going on in the "kitchen".


Group trekkers travel in large caravans with sometimes up to thirty members. They camp every night in village camp sites. Their gear is carried. The kitchen, the metal tables and chairs, the tents, even the toilet tent, the food and fuel (all of which is bought and brought in from Kathmandu), are carried by an endless line of porters, who, once they've dumped their loads, go off to camp on their own. The staff set up tents, cook food, guide, and accompany the group. While the group and staff eat food cooked with the imported kerosene, the myriad porters are burning whatever they can find to cook their rice or tsampa. These "eco-treks" are not what they claim to be.

The groups are so large their treks are very structured, following a strict itinerary. The treks tend also to be short with a limited time frame. There is no flexibility, no personal exploration and no "off-route" travel. The group has a difficult time getting to know the other members, let alone the staff. The porters, well, they are the trucks. Most of the shortcomings of this system are not perceived by the group. They are pampered (which is fine) and form many friendships with the staff. But, just as the agency and staff are independent and disconnected from the village businesses and people, so too are the group members. In "tour" mode, they keep to themselves, traveling in a bubble, separated from much of the Nepal they have come so far to see. They are missing the engagement with local people that is the greatest pleasure of these journeys.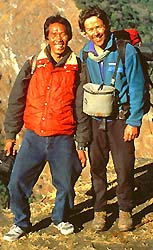 Nima, my Sherpa friend, and I worked out a way, over the years, to have the best of both modes. Wanting to provide an alternative, I formed Moon Mountain.

Limiting the groups to eight allows us to remain friendly, flexible and relaxed. It also minimizes our impact on village life and the local flora and fauna. We seek easy-going participants who are interested in interacting with their fellow group members as well as the local people.

Our treks are much longer than the usual. This allows for flexibility in pacing and route choices as well as giving everyone time to fully savour their experience. This is no place to be in a rush.

By buying our food and fuel in villages on our route, we greatly reduce the number of porters needed. For a group of eight, we normally have a total staff of eight or nine, plus Nima Sherpa. Because of the small group size and longer trip, everyone gets to know everyone's name. We become a group of eighteen people. The staff are honoured, clothed well, insured, paid well, and they shine in return. Many tears are shed when the journey comes to an end.

Buying locally is very much appreciated by the local merchants and farmers. As we seek the best vegetables and the healthiest chickens we are spreading out our money directly and making friends.


Group members almost always have the option of sleeping in a tent or in a tea-house room. Most opt for the tents which are definitely warmer than the unheated stone rooms at high altitudes. We do encourage some lodge nights if the lodge is run by good friends of Nima, or Sherpa stew is being cooked, or they are celebrating a feast day or having a party (a marriage or a house warming), we can move in and enjoy the hospitality of our hosts and often that of their neighbours. When you stay in a lodge, you are in a home and in that sense you are connected to the village and all of its kitchens. The lodge is also a business. By staying there, you honour your hosts. By paying your own bills, you are giving greater opportunity for personal exchange.

Most of our meals are prepared by our cook and kitchen helpers (our staff wear many hats). The food is fantastic! The only complaint ever received is that there is too much. "Bed" tea is served to the door of your tent by smiling faces every morning just after dawn.

We definitely take frequent side trips to cultural sites and events. We regularly detour our route to visit seldom-visited areas. Given a choice we always take the trail less trodden. We actively involve our guests in making these daily choices of diet, accommodation, pace, and route. It enhances the independence of your journey. You are customizing your trips as much as I am.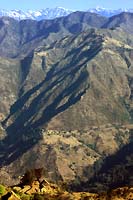 When it comes to actually walking in the Himalaya, there isn't really a choice. You can't hail a cab. Trekking is often hard work. Long ups, long downs. Every one entering the Himalaya is somewhat intimidated by the great size of their undertaking. That first view of enormous hills, dotted with terraced villages, rolling away to distant ice peaks can be very daunting. Especially, when you are told you are looking at your route ! The sense of accomplishment and satisfaction on the completion of a long trek often quickly leads to planning the next.

It helps to have very comfortable broken in walking boots. It helps to love walking. It helps to be aerobically fit. It helps to have accustomed yourself to walking distances (several hours at a stretch) on uneven ground, with a light to moderate load. Basic backpacking is the best training ground. The hard work never lasts too long. Six to seven hours is our normal walking day with lots of stops. There is nothing to prove, no one to impress, there are no slave drivers here. We never walk in single file military style. The tone is casual, unregimented, with people walking at their own paces, gathering at tea and lunch stops.

You will carry a day pack (a 30 litre size is appropriate) with your daily needs: water, windbreaker, hat, sunscreen, camera, etc. Your sense of guilt that someone else is carrying your load is gone within minutes on the first uphill, especially as the porters are chatting, joking, laughing and singing and blessing you for giving them a job.

Though highly organized, we (you, Nima and I) are the whole organization and can make changes en route. This is your own journey, not a packaged tour that you have bought. We will get you into the "kitchens" of Nepal. From your first inquiry to your return home, we will give you our personal care and attention.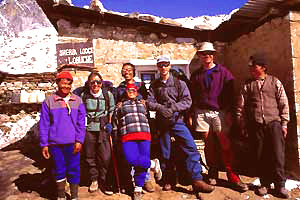 Recommended Reading List