---
Tourist Safety in Nepal
Since the Maoist Party (the insurgents) came above ground and then won the election (with a lavish dose of intimidation), the always fascinating political climate of Nepal has stabilized.

Road blocks are gone and buses (even the night buses) run on schedule (as much one could hope for in the Himalaya). Tourism has rebounded. Countries around the world have dropped their Nepal travel advisories. We no longer need to factor "donations" to the "People's Party" into our trekking budget!

The greatest safety hazards are the good old ones: the ankle breaking potholes of Kathmandu, all Himalayan road travel and stepping outside to relieve yourself at night without a headlamp!!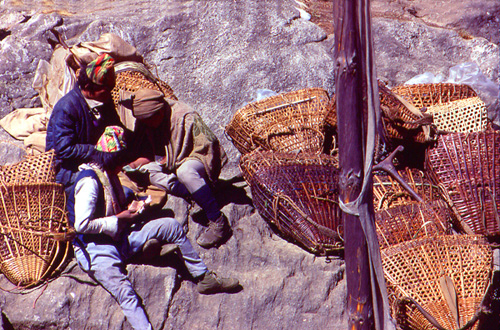 As Nepal is now considered a safe destination, the number of airlines flying to Nepal is growing, but not as fast as the dramatic increase in tourist traffic

To ensure desired travel dates we recommend booking flights well in advance. Six months is not too early. Remarkably, the air fare is still reasonable, under $1500 Cdn., as of spring 2012, on Korean Air (awesome service!)

I would be happy to assist your travel planning in any way possible. My agent is Wayne Barnard at Oceanside Travel. He is very familiar with my trips and can service all your ticketing and insurance needs. The telephone # is 250-752-5775. Whatever flight arrangement you choose, you will be accompanied by me, or met at the Kathmandu airport and welcomed to Nepal
| Top of Page |
Land Prices
(international airfare not included)
Land prices are comprised of Moon Mountain's fee and "all other expenses". "All other expenses" is the cost of all your trip expenses between arrival at and departure from the Kathmandu airport.
In Nepal "all other expenses" will comfortably cover All trip expenses: Visas, permits and taxes. Meals and accommodation in Kathmandu and on the trek (based on double occupancy). Domestic air and/or bus transportation. Taxis, airport pick-up and delivery. Guide, cook and porters' wages. Their insurance policies, extra clothing and tips. All voluntary donations (school and/or temples). This price does not cover alcoholic beverages, your personal insurance policies nor trip clothing or gear.
You can bring this amount and pay as you go, or have me be your bank once we're on the trek. I do encourage you to do some handling and exchanging with local currencies. It enhances the independence and cultural interplay of your journey.
All prices are in Canadian dollars.
Journeys

Days
Moon Mountain Fees
All other expenses
excluding airfare
Total
(without airfare)
Langtang and Chillime
26
$1500
$1950
$3450
Khumbu's 4 valleys
32
$1500
$2300
$3800
Khumbu's 3 Passes
25
$1500
$2300
$3800
Imja Tse, trek & climb
30
$1500
$2700
$4200
Mera Peak, trek and climb
25
$1500
$2700
$4200

Annapurna Rhodoland & Sanctuary

15

$1500
$1450
$2950
Kangchenjunga
29
$1500
$2650
$4150
Manaslu - Naar Phu
30
$1500
$3000
$4500
Makalu
30
$1500
$3000
$4500
Dhaulagiri-Annapurna
30
$1500
$2950-$3150
$4450-$4650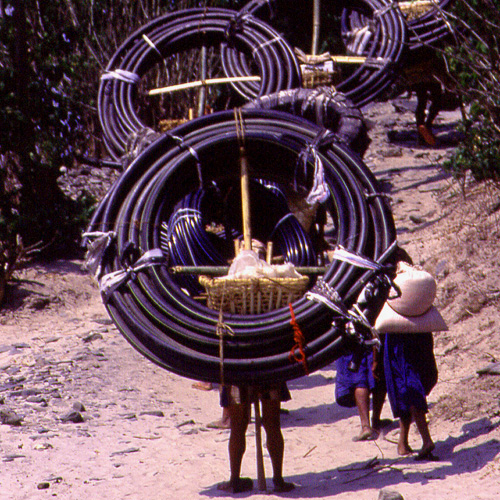 Group size is limited to eight participants.


The deposit (50% of Moon Mountain's service fee) is due at least 4 months prior to departure - payable by cheque or money order made out to Tom Carter / Moon Mountain Adventures.


Full payment of Moon Mountain's service fee is due 2 months prior to departure. From this point $500 of the deposit is not refundable.


Moon Mountain reserves the right (with great apologies) to cancel a trip due to
insufficient registration. We require a minimum of 4 participants on a trip. If a
trip is cancelled, deposit is refundable.


You will be required to complete a confidential medical questionnaire and a "waiver of responsibility" form.


You will be required to have a travellers' medical policy that includes an air evacuation clause.


Climbers will be required to have a sports insurance policy.
---
Langtang | Everest | Annapurna | Climbing Expeditions | Recommended Reading
Equipment List, Fine Print and Basic Nepalese
---