Thanks to new trail building the Annapurna Circuit can be walked on paths, not roads. How wonderful!
The Annapurna area is west of Kathmandu, in central Nepal. Pokhara, the main urban center is much lower than Kathmandu, at 810 meters. The foothills are small and the main Himalayan range soars above the hot and steamy lowlands. The Annapurna range is bounded on the West by the Kali Ghandaki river which, flowing since the beginning of the growth of the Himalaya, cuts right through from Tibet to India, forming the deepest valley in the world. Eight thousand meter peaks on both sides!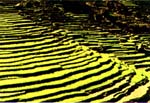 On the north and east the Marsyangdi River flows down from the Thorung La Pass, across the arid north side of the Annapurnas, down through the pine and fir forests into the subtropics, rice paddies and banana palms.

We access the area by bus - always an adventure in itself - from Kathmandu to Gorkha, the little kingdom that eventually absorbed its neighbours, until the present day shape of Nepal was formed. For me the real beginning of this trek is the hour long climb up the king's staircase to his palace, from which the whole awesome wall of the Himalaya can be viewed.
It is two days walk to the Marsyangdi River and two to three days more along it to Bhulbule. These first days are wonderful lowland days with no great ups or downs. Farming villages and terraced paddies and no westerners. It's like we've dropped off the face of the modern planet and we receive the real Nepali welcome - a great blessing and privilege.
At Bhulbule we merge with the main flow of trekkers walking the basic circuit. Beyond Bhulbule, the mountains start to crowd the river and we begin to climb. Some of the climbs are a couple of hours long, if the days are hot we'll be drinking lots and stopping often. The villages are beautiful, daily life and farming practices changing little through the centuries.
There are quite often locals fishing the river in this stretch. It goes very well with dal bhat. From Bhulbule to Manang takes about a week. We will fit the daily schedules to the pace of the group. In that time we climb from 850m to 3500m! From hot to cool, from moist to dry, from papaya to cabbage. It will take work to walk up this valley, but not punishment. This is recreation! We will definitely stop at the Latamanang hot springs. And definitely in Pisang and again, a days walk away in Manang. Manang is overwhelmed by snow peaks, most over 7000m. It is so dry, peaked roofs are unnecessary, the villages are puebla-like, one porch is the neighbour's roof below. The Gompas - Buddhist monasteries - seem ancient and timeless. The chanting vibrates in the stone, in the glaciers, in the stars. Whatever it's connection, it is very moving.

Part Two of Annapurna Circuit/Gorkha Start